Pusapati Ananda Gajapathi Raju III
Pusapati Ananda Gajapathi Raju III (1850 - 1897) H.H. Meherban Mushfiq Qadardan Karam Farmayi Mukhlishan Maharaja Mirza Raja Sri Sir Pusapati Ananda Gajapati Raz Manney Sultan Bahadur Garu of Vizianagaram. It was under his patronage that the graduation courses were introduced in M.R.college in 1881.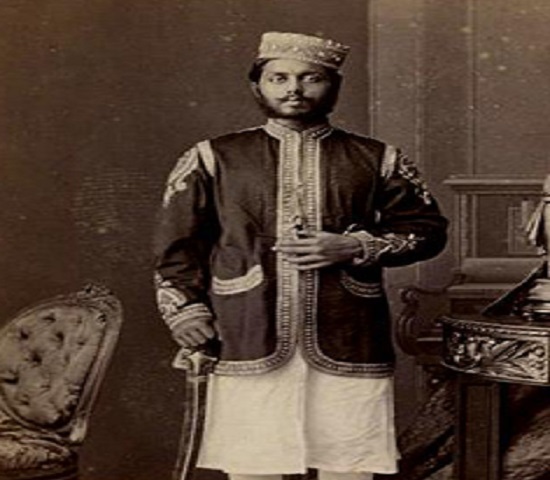 Pusapati Ananda Gajapathi Raju III (1850 - 1897)
Alaka Rajeswari Devi (3-4-1832- 12-7-1902) and Appalakondayamba (16-2-1849- 14-12-1912) mother and sister of Ananda Gajapati respectively shared his literary interests. They were women of strong convictions as evidenced by their stout championship of the causes of the adoptee to the Vizianagaram House - Vizayarama Galati IV (27-8-1883 TO 11-9-1922), in the 'Pedda Dava' (Big suit) involving the Estate by the contestants - the 'gnatis'.
On 28th February,1910, Vijayrama Gajapati IV, became founding master of the Masonic lodge NICOPOLIS at Vizianagaram. The present Vijayram memorial Masonic temple the first floor was constructed in 1937. Due to the munificent donation of maharaja kumarika alaka Rajeswari Devi, the beloved daughter of the chief founder.
It was during the time of Vijayrama Gajapati IV, to be exact, on 5th February 1919, Vijayrama Ganapathasala ' (present day Maharaja Government college of music and dance) , was started with that versatile giant among the creative artistes Adibhatla Narayana Das (1864-1945) as the first principal. Later that position was held by this time the Maharajah's College has also grown in stature , and has become one of the premier institution in the composite Madras State. Its hostel building and a new building to the Sanskrit College were provided. Korukonda place, which was later gifted away to Sainik School was also built in his time . Vijayrama Gajapati IV processed keen interest in the theatre and brought into being Vijayrama Dramatic Association, on 8th February 1919 . 'Mahamahopadhyaya' Tata sabbaraya Sastry (1867-1944), Yenamandra Narayana Murty (1867-1930), Medepalli Venkataramanaacharyulu (1862-1943) were some of the poets and pundits that received the bounteous patronage of Vijayrama Gajapati IV. Adibhatla's Omar Khayyam was dedicated to him . Maharani Lalitakumari Devi also took keen interest in promoting literary activities . Tata Subbaraya Sastry's magnum opus-"Guru Prasadam" and D.B.V. Subrahmanya Sastry's ' Vizianagara Vizaya Yatra' were published by her munificence.