Pusapati Narayana Gajapathi Raju
Pusapati Narayana Gajapathi Raju (1786 - 1845) Also known as Narayana Babu.He spent most of his life in Varanasi.Kedar Ghat and Vijayanagaram Ghat constructed in varanasi by Maharaja of Vijayanagaram in 1800's.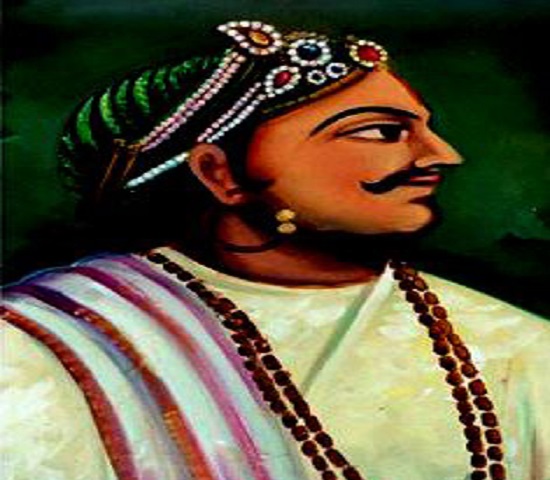 Pusapati Narayana Gajapathi Raju (1786 - 1845)
Due to administrative reasons, Narayana Gajapati stayed at Benaras from 1817-1822 and again from 1827 till he breathed his last at that place on 23rd August 1845. Consequently, his son and successor Viziarama Gajapathi III(7-1-1826- 28-4-1879) was virtually brought up at Benaras, a cultural centre of North India. The invigorating company of poets and scholars of that place had a profound influence on him so much so that after returning to his Estate in Andhra in 1854 he desired to model it as another Varanasi in the matters of education and scholarship. He felt the imperative need for increasing the available educational facilities in order to quench the general thrust for cultural expansionism by way of acquisition of western education. Accordingly, he had initiated a pragmatic and dynamic policy by founding in 1857-the year in which the three Universities of Bombay, Madras and Calcutta were also founded for the spread of English education, a Middle School in Vizianagaram which was to be a model to over a hundred schools run by the Vizianagaram Estate. The school has wonderfully forged ahead - what with free boarding and with no fees charged and thus by 1868 it became a High School and in another decade with the starting of Intermediate classes it has become a College,then affiliated to the University of Madras. Besides opening the 'Rippon Hindu School' for girls at Benaras and Madras. In 1860, Vizayarama Gajapati founded a Sanskrit Veda Pathasala (school) which later on blossomed in to the present Maharajah's Government Sanskrti College in Vizianagaram that produced many eminent Sanskrit scholars of Andra Desa. He extended his patronage of education by providing scholarship to students belonging to the Universities of Madras, Calcutta, Aligarh and Cuttack and by causing construction of schools and libraries at places such as Banaras and Allahabad.
Vizayarama Gajapathi III envinced keen interest in promoting public utility services in and outside his Estate. Appreciating his liberal donation to the Civial Dispensary at Visakhapatnam, the then Viceroy of India, Lord Lawrence, in his letter dt. 11th March 1868, complimented the Maharaja for his able management of his Estate. He donated an amount of Rs 68,000/- towards laying roads from Vizianagaram to Bhimilipatnam, Visakhapatam, Srungavarapukota and Srikakulam. To promote handloom industry, the Prince of Wales Market in Vizianagaram was constructed. The Vizianagaram Municipality also came into being during his regime. The Moti Mahal Palace in the Vizianagaram fort was constructed. In 1867, a Water Fountain was erected in the Hyde Park, London.
Poduri Venkataraju Kavi in his 'Ramaleela Vilasam' described the coronation ceremony of Vizayarama Gajapati. As in those day 'Ram-leelas' were celebrated on a large scale, certain places in Vizianagaram acquired equistite name like Ayodhya Maidan and Lankapatnam. Spiral Venkatachala Kavi, author of 'Kowsalya Parinayam' and Ramakrishnopakhyana, Pasagada Sanyasi author of 'Ganga Vivaham' Attoti Raghupati Kavi author of 'Raghupati Raavyam' and Killampudi Mutual who excelled both in literature and music adorned his court. Manda Kameswara Kavi (1821-1892) dedicated his 'Andhra Kurma Puranam' to him. Fine arts especially the drama received an impetus with the founding of the 'Jagannada Vilasa Sabha' in 1874 under his patronage.