RAJAH SAHEB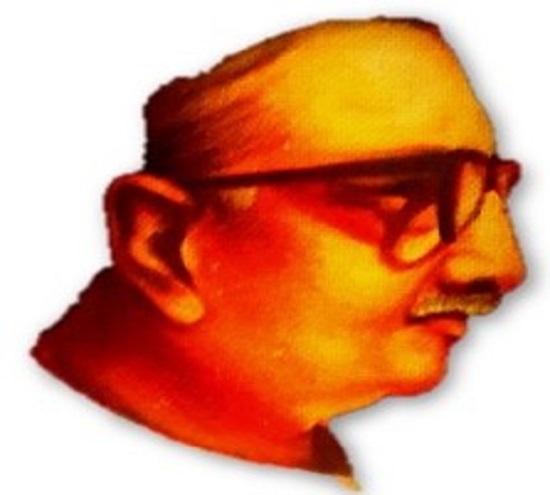 Dr P.V.G. Raju Raja Saheb of Vizianagaram
Immortal poetess of India Smt.Sarojini Naidu remarked about Dr.Rajendar Prasad the first president of India that one should have a pen of gold to be dipped in honey to write about Rajen Babu. This Personality description very well fits Dr.P.V.G. Raju, the Raja Sahab of Vizianagaram, who is a class By himself .
Pusapati vijayram Ganjapati Raju, popularly known as "PVG" was born at 0.52 on 2nd may,1924 (corresponding to S`1846 year Raktakshi of hindu calendar ,Chaitra Bahula trayadasi, Thursday),at the Phool-bagh palace, Vizianagaram .He was the eldest son of maharaja Alak Narayana Ganjapati who incorporated in the place of the traditional motto of the , vizianagaram estate –'ever loyal his own motto—'be true to one`s own self meaning that teal independence in virtual obedience or submission to one `sown conscience, the 'inner voice'. Maharaj Alak Narayana Gajapati married princess Vidyavati Devi on 15th February 1917, who hailed form Keonthal, one of the Indian states of simla hills , long famous in the annals of Rajput Chivalry. No wonder, their offspring grew up to be a prince among democratic socialists and democratic socialist among the princess.
Pundits attached to the royal court and an English tutor Mr.Bardswell coached him before he joined St.Aloysius convent, Visakhapatnam(1933-1939).During 1940=1942 he studied at the central collage ,Bangalore. Some of his classmates distinguish themselves in their chosen walks of life with whom he maintained close friendship throughout. They are Dr.Raja Ramanna, eminent atomic-energy scientist. Late D.D Goenka; Aga shahi former minister of external affairs, Pakistan and admiral M.K Rov (Rtd.)He joined the presidency collage , madras in 1942. During the period of his collegiate education, he distinguished himself apart from in the general studies in the arena of sports especially tennis and cricket. He captained the tennis team of the central collage, Bangalore in many a prestigious matches. As a student of the presidency collage, Madras he played cricket under the captaincy of the well known cricketer C.K haridas .The love of this game proved to be long drown out affair with him. He promoted by way of sponsoring many a promising cricket players such as S.Shandra Sekhar, who made a mark for himself in the national and international test cricket. Sri PVG himself was the president of the south zone ranji trophy cricket match was held at the maharaja`s collage stadium in January 1982.
In 1942, he joined the Columbia University, New York. Eisenhower and Richard Nixon who were to late become the presidents of USA were at that time president and vice –president respectively of the Columbia university. While at the Columbia university he happend at attend the lecture of albert Einstein (1879-1955) the renowned scientist and it is perhaps to that time his abiding interest in science and technology scientist and especially atomic energy has to be traced. Interestingly, late as a member of the Indian parliament he found a right place for himself in its consultative committee on atomic energy.
At the time of his accession to vizianagaram 'gaddi' on 24th August 1945 ,the annual income of the Estate was estimated to be around thrity lakhs. And well before the idea of Estates abolition gained momentum, he was the first Indian ruler who pleaded that all Estates should be abolished even without paying any compensation to their holders, for by that time he had already converted himself into hard core socialist. It was Mohan kumaramangalam that immensely influenced him in this regard .But for his Fedua background he would not have hesitated to become a committed communist. Finally, he had chosen the middle path of socialism under the benign influence of socialist leaders like Jayaprakash Narayan and Dr.Rammohan Lohia actually when JP toured south india in 1945, it was Sri PVG Who was at the stearing –wheel of his car throughout.
In 1952, Sri PVG was elected to the Andhra legislative assembly as a social candidate from the Vizianagaram constituency. In 1955, he was returned form the same constituency to the Andhra assembly- that time representing the Praja socialist party .In 1957, he was elected to the Lok Sabha from the Visakhapatnam Constituency as an Independent candidate. However, in the same year he was elected to the Andhra Pradesh legislative assembly from the Bheemunipatnam constituency , in a by-election, as a congress candidate . In 1962 and 1967 he was successfully returned to the A.P assembly from the same constituency .In 1971, he was elected to the lok sabha as an independent candidate from the Visakhapatnam constituency. In 1977, he represented the Bobbili constituency in the Indian parliament as a congress candidate. In 1984 when on the eve of his entering the 60th year ,he preferred to retire from congress(I) candidate .Thus in all he contested nine elections-five times to the legislative assembly and four times to the Lok Sabha and always return with convincing majority. The electorate whether of Vizianagaram or Bhimunipatnam or Visakhapatnam or bobbili seems to have attached little importance to the party label-whether it was socialist or Praja socialist or congress or congress (I) which ever he chose to represent .The very fact that he was twice elected to Lok Sabha as an Independent candidate testifies to his popularity with the electorate and stands that he was always and indeed a 'peoples choice'.
Sri PVG adorned the Ministries of health (1960-62) and education (1962-64) in the Andhra Pradesh cabinets of Sarvasree Damodaram Sanjeevvayya, Neelem Sanjeev reddy and kasu Bhahmananda reddy . as minister for Health he was instrumental in introducing degree course in Ayurveda and thus secured for that ancient system of the Indian medicine a permanent place .As a minister for education, he emblazoned the educational system of the state with innovations of the most for reaching impact .it was during his tenure of office that the private collages were admitted into government grant in aid and he also exerted himself to get the UGC scales of pay implemented for collegiate teachers as he subscribed to the view that they are the prime forces in the great task of nation-building.
As a true socialist he translated its lasting principles into actual practice. Whether it was participation in 'Sramadan;such as the one of digging an agricultural canal at Annamarajupeta (Srungavarapukota Tq.) in 1949-`50 or courting arrest on 18-81954 for leading the Inam Satyagraha (Nandikatur Tq.Kurnool Dt) he used to be at the forefront. He was in prison for a period of forty days for his participation in the Karivena Inam Satyagraha. Again on 10-12-1995, he courted arrest for protect demonstration on behalf of the displaced persons of the Nandikonda (Nagarjuna sagar) project, when Pandit Nehru cane to lay foundation stone to that project at Mahanadi. Along with Dr.Rammohar Lohia he was arrested and imprisoned for forty five days in the Purnia district jail in Bihar, for leading a no-tax campaign of the farmers of Bihar. Politics was never a profession to him but a mission to which he remained dedicated throughout his political career .it was indeed a rare sight to see the raja sahib undertaking extensive 'Padayatras' at times converting on an average thirty miles a day to understand the problems of the people as an active socialist he liberally the socialist movement in the country.
11th May 1964 was the bleakest day not only for him personally but also to all those who pinned their hopes on this bright star on the horizon of Andhra politics. On that day at about 11.40 am hemet with a near fatal accident as the car in which he was travelling to Bhakra-Nangal dam, deflated and turned turtle. At about 2 pm a stray bus going towards Nangal spotted the much damaged car and still worsty battered 'PVG' in a pool of blood as he was all the time profusely bleeding with an injured scalp. The day before he was at Chandigarh at the invitation of the Punjab government to participate in the All Indian education Ministers conference. After preliminary treatment at the Nangalk government hospital .the next day he was admitted in the post –graduated institute of medical science, Chandigarh where he was attend by Dr.Gulaty and Dr.Chandy, neuro-surgeons of world repute. He made medical history by reviving after being in the coma for seventy nine days .On 22nd October 1964, he was brought to Hyderabad in a specially designed Russian air-craft. The government of Andhra Pradesh continued him as a minister without portfolio. What in more remarkable was the affectionate anxiety expressed by his former subjects-the people in and around Vizianagaram- towards their 'Maharajaha's' health. Prayers for his health and recovery were held at the temple, mosques and churches instantaneously. In June 1965, he proceeded to English to undergo walking and speech therapy at royal Infirmary, Durby, where he was under treatment for five months. On his way back to Indian he went to Cologne in west Germany where a ream of specialist after examining him expressed surprise that the brain of he a person whose scalp has been so badly injured remained undamaged and found out that it was due to the excessive pumping of blood into the brain. And they were true too for it was his regular habit of practising "Sirshasana' for 45 mts, every day since 1949, that really saved his brain from possible damage. He had this positive habit of observing self regulatory methods. For-examples in November 1958 he observed silence for twenty- one days, removing himself to a remote place on the Simhachalam Hills, only partaking milk during the period of 'Mouna-vrata'. Dr.swami jnanananda- the renowned nuclear physicist was his spiritual guru. He wrote an authoritative introduction to Swamij`s 'Glimpses'(1959); foreword to the 'elements of nuclear physics (1962); and an equally standard preface to his 'The synthesis and ultimate objective of empiricism, Rationalism and transcendentalism(1964)the collected writing of the Raja sahib presented elsewhere in the present volume reveals his wide reading and deep thinking.
Umpteen institutions dedicated to varying areas from research to religion, to wit, Andhra historical research society, Rajahmundry of which he was a patron, Sri Aurobindo ashram of Pondicherry of which he was the hereditary trustee received his munificence. Well known geo-physicist like Dr.chirravuri Dakshinamurty received his generosity. Bulusu venkata Ramanayya`s' Gajapatirajula teligu vangmaya poshanamu(1961) was dedicated to him. Sri PVG was honoured with the degree of Doctor of letters by the Andhra University of which he was the pro-chancellor for quite long time.
During the transitional period of the Estate`s abolition, the Maharajah`s music collage and Sanskrit collage were taken over by the government. Regretting their transfer and perhaps to make good the loss in 1957, he purchased the kurukonda palace from his uncle for an amount of Rs 5,50,000/- and together with 1000 acres of land, donated it to the central government for locating the Sainik school- the pride Andhra Pradesh.
Sri PVG found on 12 November 1958, the 'Maharaja Alak Narayan society of arts and science the initial letters of the phrase Mansas .It was named after the hallowed memory of this father Alak Naranyan Gajapati (1902-1937) as the culminating offering of the Vizianagaram royal house at the alter of learning. Conscious of his heritage: 'Noblesse Oblige' he endowed the trust with almost all his properties worth about fifty corers of rupee at the present value. From a post- graduate collage of education to an English medium Education school. More then half-a dozen institutions are functioning under the aegis of Mansas. As has been observed else where, "Royal patronage of learning has been a time honoured tradition in this country. With the passage of time while all the trappings royal power dwindled and virtually disappeared, institutions of learning mothered by the royal houses continue to shine with unabated splendour, irradiating a society relentlessly marching on the wheels of modernity . The light-houses of learning installed by the far-sighted rulers will ever remain as eternal monuments to the native magnanimity, disinterested service, and idealistic fervour... and "it is only a truism to say in Wesleyan style that the rajah Saheb has done all the good he can, by all the means he can, in all the ways he can, at all the time he can, as long as ever he can to hold a lift the education". Thus , it is it fitness of things that his bronze statues along with the status of the goddess of learning are installed in the premise of educational institutions by the Mansas to secure whose continued progress he created it.
Sri PVG was the proud father of four sons and two daughters whose career record is promisingly inspiring. His eldest son Sri Ananda Gajapati Raju of Andhra Pradesh and till recently a member of the parliament. His son Sri Ashok Gajapati Raju is presently the Hon`ble Minister for finance, & legislative affairs, Government of A.P . Sri PVG was a stickler for time and very punctual to keep up his appointments and engagements. Thus true to his resolve, he withdrew himself from the arena of politics at the onset of his 60th birth-day. As per the dictates of ancient Hindu tradition a person after completing sixty tears should embrace 'Vanaprastha' hanging relinquishes all worldly comforts, desire and attachments, he remained like a crystal in its purity and radiance to which no contamination can ever stick. A voracious reader –he whiled away his time either in reading or meditation at Simhachalam hills- the abode of the presiding delity his family- lord Varaha Lakshmi Narasimha Swami. Sri PVG functioned as the master of the lodge nicopolis during 1993-95. As the one who is deeply and equally interested in working of 'atom;' as well as 'Atman=as a true disciple of his spiritual mentor, the sage-Scientist- Swami janananda, Sri PVG Raju having led a fruitful and, purposeful life has elevated himself to the heights of a RAJA RISHI. Having fulfilled all his worldly obligations in a positive, purposeful and fruitful way, the noble personage passed away beyond the realms of this mundane world at the mid- night of 13th November, 1995 –an auspicious day that being the ' KARTIKA SOMAVARA'. AS MARK OF RESPECT and to commemorate his memory , the government of Andhra Pradesh declared that the Vizianagaram District will be named after him. Numerous of this admires will continue to look towards him for his heavenly advice and will continue to draw inspiration and guidance from the multi- institutions founded and nurtured by him.